Welcome to River Park Nursery School

"River Park gave my children the best possible start in the world, enabling them to negotiate a much broader community." -Mary Frosch, teacher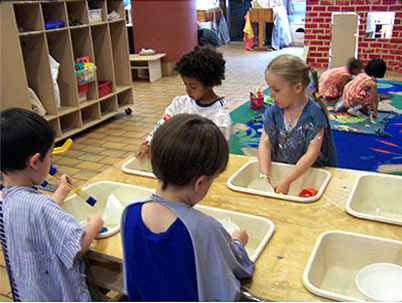 We are a community with a long, rich history and this steadfast commitment: To guide and inspire our children in a fun-filled, supportive environment, encouraging each child to sparkle with self-confidence and to cherish his or her own precious place in the rainbow of life.

Registration is OPEN and applications are being accepted for the 2018-2019 school year. The afternoon program has opened and we are registering for the 1 to 4 PM time slots for the 2018-2019 school year.

Now offering 5 day a week programs. For more information contact Maria Nunziata

River Park Nursery School accepts children on a first come, first serve basis. We don't have an interview process. Families choose us.
OPEN HOUSE
Come visit our school, meet our faculty and talk with our parents.
Thursday, October 26, 2017 (4-5pm)
Thursday, November 16, 2017 (4-5pm)
Thursday, January 25, 2018 (4-5pm)
Thursday, February 15, 2018 (4-5pm)
Thursday, March 22, 2018 (4-5pm)
Thursday, April 19, 2018 (4-5pm)
Thursday, May 24, 2018 (4-5pm)
UPK OPEN HOUSE
Thursday, October 26, 2016 (5-6pm)
Thursday, December 21, 2017 (4-5pm)
Thursday, February 15, 2018 (5-6pm)

All presently enrolled 3 year olds get FREE priority seating in the NYC UPK Free program for 4 year olds.
River Park Nursery is housed in a bright, spacious ground floor space with a large, private adjoining outdoor play area. Our main concern is the development of the individual child.




The educational goal is to enable each child to achieve the maximum realization of their unique potential. Our philosophy is to meet each child where he or she is and help him or her grow and develop from there without undue pressure. Children are encouraged to learn both from the formal program, and from other children who come from very diverse backgrounds. The school prides itself on the diversity of its families, and "trust, dignity, and respect for yourself and others" are keywords of our approach. All teachers are certified early childhood educators and/or have a masters degree in early childhood education, and a minimum of fifteen years teaching experience. Now in its 35th year, this parent coop offers parents the opportunity to work together with other parents and staff to maintain the educational program, and pleasant environment necessary for optimum growth and development of your child.